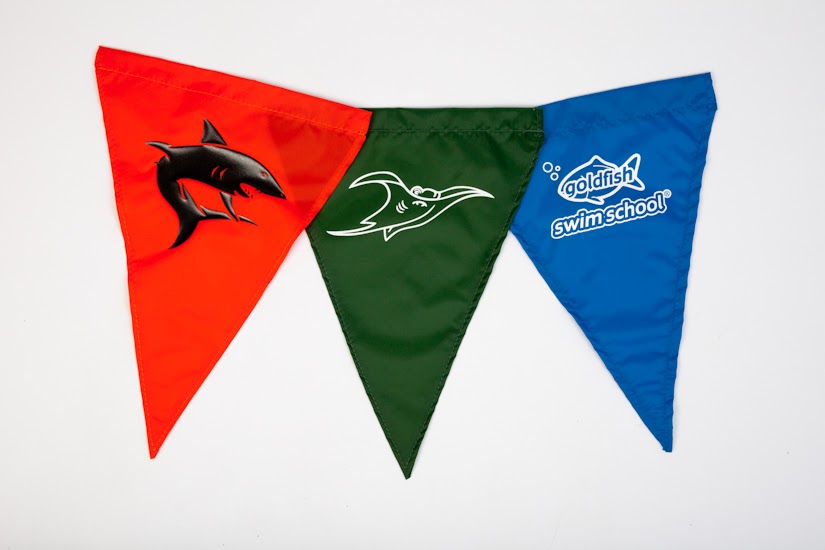 Aquatic centers probably have a long list of essential pool equipment, which of course includes swimming lane lines and pacing clocks. But those lists should also include backstroke flags, especially if you host:
Lap swimming
Swim practices
Swim meets
Swimmers use backstroke flags in a number of ways. In general, the colorful flags help swimmers easily detect where they are in the pool. Swimmers also use flags to determine their stroke count, which is how many strokes it takes to swim from swim flags to the pool wall. Over time, this helps the swimmers perfect their finishes and turns.
Backstroke flags are also essential for safety reasons. Because they help swimmers decipher where they are in the water, they keep those swimmers from hitting the wall. Swimmers can easily see the distance between themselves and the end of the swim lane, which prevents injury.
Before purchasing backstroke flags, make sure you know how many you need, what colors and materials are best for your pool, and how you will anchor the flags to the proper locations.
Let's dive into each of these three areas:
How Many Backstroke Flags to Buy
So, how do you know how many flags to purchase? At minimum, at least three flags must be evenly spaced left, right and center in each lane. They should be located 5 yards from each end of a 25-yard racing course (or 5 meters from each end of a 25- or 50-meter racing course).
Backstroke Flag Colors and Materials
When it comes to the look of your backstroke flags, make sure you choose something that contrasts against the water and pool itself, so swimmers can easily see them. High contrasting colors include red, yellow, green, orange, or black.
Vinyl or plastic flags are sometimes chosen for indoor pools because they are sturdy and durable. Nylon flags are popular options often recommended for indoor or outdoor pools. Bonus: Nylon flags can be customized with numbers, letters or your unique logo in a range of vinyl color appliqués.
How to Mount the Backstroke Flags
Mounting backstroke flags is easy using a braided nylon cord and zinc plated swivel hook. A tighter alternative is possible by using a take up reel with vinyl coated cable.
Remember: Purchasing the right type and amount of backstroke flags is crucial for your swimmers' success, but also the success of your aquatic center. To host competitions and avoid unnecessary disqualifications, you need your swimlanes to meet all FINA, NCAA, USA, and NFHS regulations.
If you have any questions or uncertainties as you purchase your pool equipment, we're here to help. Get in touch with us.
Learn More About Swimming Lane Lines from Competitor Swim
Competitor Swim® understands the importance of following FINA guidelines for competition swimming. All of our lane lines are custom built by hand with pride, passion, and expertise. Every Competitor Swim® Racing Lanes is manufactured and assembled in the USA and customized for your specific needs. Contact us to learn more.