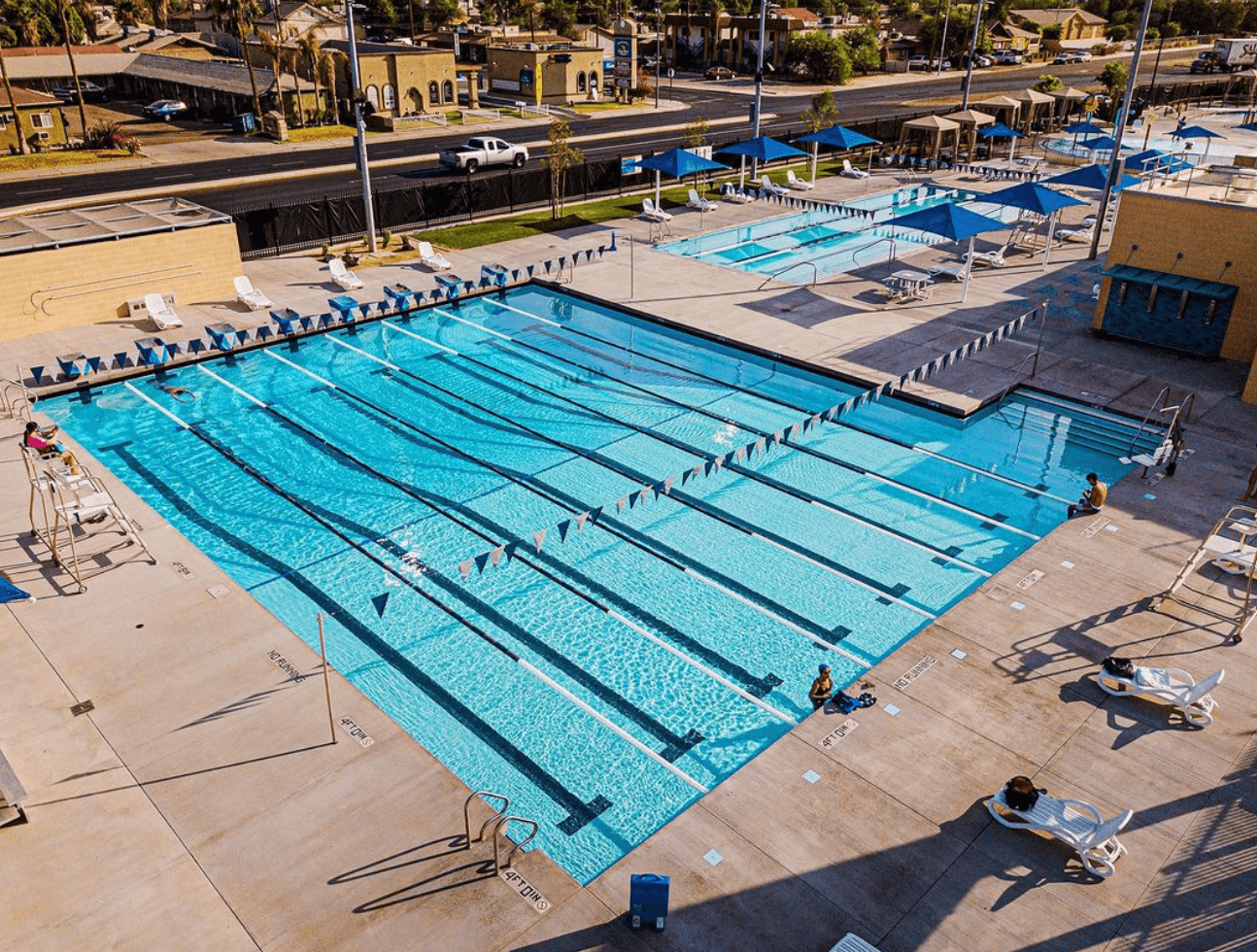 Every pool requires certain equipment to take it from basic to advanced. And if your pool plans to host any kind of competitive swimming event — from high school competitions to NCAA races to USA Swimming events — you need backstroke flags.
If you've never ordered backstroke flags for your pool, you probably have questions. No worries — we're here to answer them.
What is the Purpose of Backstroke Flags?
Backstroke flags help swimmers easily detect where they are in the pool. Backstroke flags are an important safety mechanism for swimmers — they need to know how far away they are from the wall. Swimmers can also use the flags to determine their stroke count, which can help them train.
Where Should Backstroke Flags Be Placed?
At minimum, at least three flags must be evenly spaced left, right and center in each lane. They should be located 5 yards from each end of a 25-yard racing course (or 5 meters from each end of a 25- or 50-meter racing course). Make sure the backstroke flags are at least 7 feet above the water's surface. This location allows swimmers to easily look up and see the flags, especially for those who are doing the backstroke (hence the name).
How Far are Backstroke Flags From the Wall?
Backstroke flags help swimmers decipher where they are in the water and keep swimmers from hitting the wall. Swimmers need to easily see the distance between themselves and the end of the swim lane, which prevents injury. But in order for this safety feature to work, you have to place the backstroke flags 5 yards from each pool wall.
What Color Should Your Backstroke Flags Be?
When it comes to the look of your backstroke flags, make sure you choose something that contrasts against the water and pool itself, so swimmers can easily see them. High contrasting colors include red, yellow, green, orange, or black.
Competitor backstroke flags for swimming pools consist of an oxford nylon material in a range of colors that meet all FINA, NCAA, USA, and NFHS regulations.
Going beyond color, consider customizing the backstroke flags with your team name, logo, or other designs. You can add flair with numbers, letters or your unique logo in a range of vinyl color appliqués to nylon flags.
How Do You Mount Backstroke Flags?
To mount backstroke flags, use a braided nylon cord and zinc plated swivel hook. If you want another option, you can get a tighter fit by using a take up reel with vinyl coated cable.
Where Can I Get Replacement Parts for My Backstroke Flags?
Competitor offers a range of materials you might need to replace your current hardware for mounting backstroke flags, including:
3/16" Braided Nylon Cord
Zinc-Plated Swivel Hook
Take-Up Reel
Stainless Steel Spring & Cable Lock
3/16" Stainless Steel, Vinyl-Coated Cable
We also have customizations available for your backstroke flags, including solid, permanent letters and numbers that can be applied via silkscreen printing to either size flag.
If you have any other questions related to backstroke flags for your swimming pool, don't hesitate to reach out. We're happy to answer all of your questions and provide all of the information you need to make an informed, confident purchasing decision. Let us know how we can help.
Backstroke Flags and Swimming Lane Lines from Competitor
Competitor offers a variety of options for backstroke flags and swimming lane lines. Our products are custom built by hand with pride, passion, and expertise. Every Competitor Racing Lanes is manufactured and assembled in the USA and customized for your specific needs. Contact us to learn more.