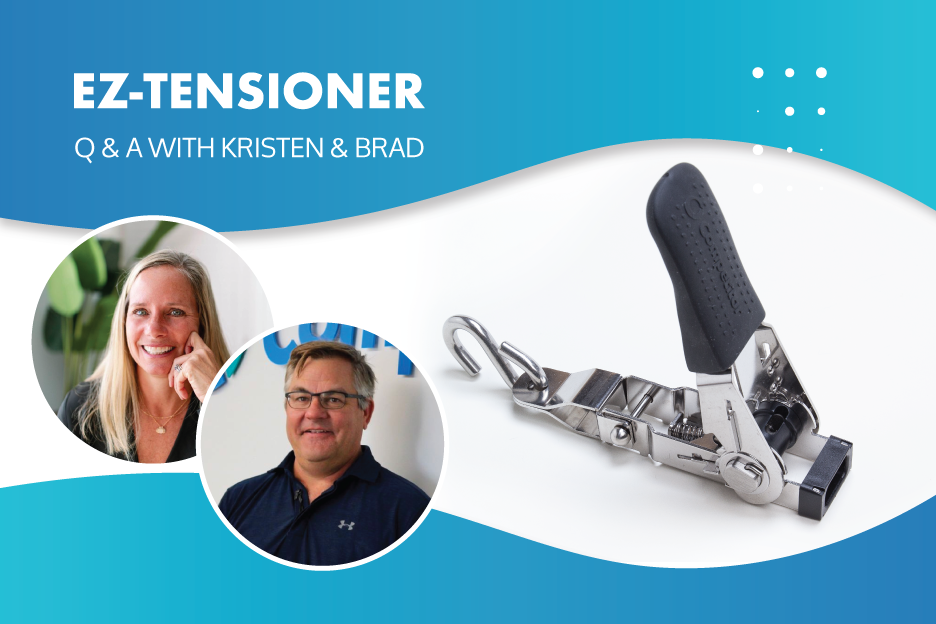 Competitor's latest addition to their product line, the EZ-Tensioner is now officially available for purchase. Designed for ease of use, the EZ-Tensioner is the result of the hard work and dedication of Competitor Vice President Kristen Linehan Omli and President Brad Underwood.  
What is the EZ-Tensioner? Why did they choose to bring this product to their line? Kristen and Brad took the time to answer these and many more questions to provide insight into this revolutionary product available only from Competitor.
Tell us about your newest product, the EZ-Tensioner.  
We are so excited about this new, revolutionizing product!  It has been a long time coming, and we believe it will change the swimming lane line market. We started down this road to give our customers an option for how they tighten their lane lines. Our current Take-Up Reel uses a wrench to tighten the lane lines, which is certainly very effective.  The NEW EZ-Tensioner, however, allows facilities to tighten the lane line without a wrench, making the process easier and faster.  Both Competitor options are great and easy to use, but now our customers have a choice.
Why did you decide to bring this particular new product to the market? 
We saw a need for another option to tighten a lane line. Competitor is always striving to bring products to the market that make things easier for the user.   
What is your favorite feature? 
Our favorite feature is the tensioner's ease of use and the ability for our customers to choose between option to find the best fit for them.
How is this tensioner different from others on the market? 
Our tensioner only requires a few "clicks," and the lane line is tight.  No need to turn, twist, turn, twist.  It takes two to three cranks of the handle and the lane is all set.  And releasing the lane line is as easy as tightening it!  It is one lift and then pull the release.  It is FAST. EASY. NO WRENCH! 
Can it be used with current lane lines? 
Yes!  It can be retrofitted to any lane line.  The process of switching is simple and easy and our team is here to help explain the process.
How to Purchase
The EZ-Tensioner is now available as an upgrade (per lane line). We will offer educational training classes to any dealer that is interested. Please email [email protected] to order or schedule a training session.
600200 EZ-Tensioner Upgrade
600100 EZ-Tensioner (includes cover and Allen wrench)
Follow us on Instagram or Facebook to stay updated on the EZ-Tensioner and the entire line of Competitor products.