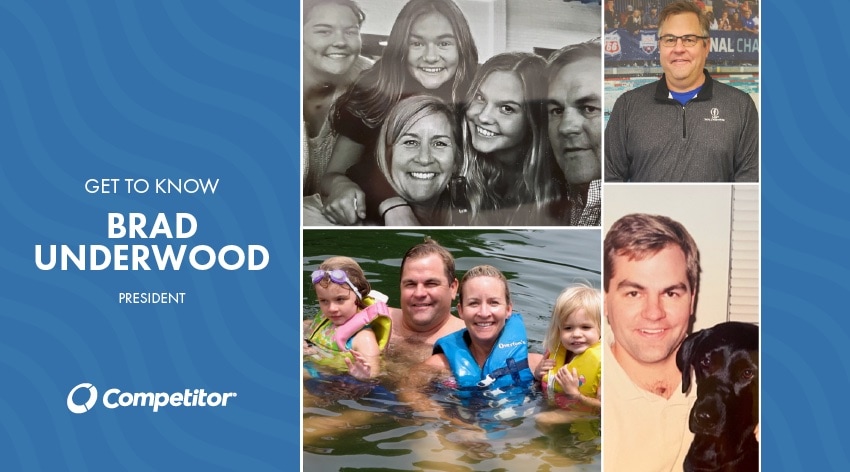 Our team members are the heart and soul of Competitor, and that begins with the dedication of our President, Brad Underwood. We recently had the chance to chat with Brad about how he came to purchase Competitor, the goals he has for the company, and what he feels makes Competitor stand out from others in the industry. Of course, we also like to hear about his family and how he spends his time 'away from the pool.'
Tell us about your professional history before Competitor?  
I attended the University of Kentucky for an undergraduate degree and ended up earning a Master's degree in Sports Management from there as well.
After college, I managed a Jack Nicklaus golf facility in Dallas, Texas from 1997 to 2000. Looking back, I sure wish I would have taken more lessons from the golf pros. I then went into a sales position selling indoor volleyball net systems, primarily to high schools and colleges. Eventually, I ended up managing the company. I learned so much from my time at this company and met a ton of great people. In all, I brought 20 years of experience in management, product development, and sales in the sports industry with me to Competitor.
Why did you choose to acquire Competitor?
After managing the volleyball company, I really wanted to own my own business and began to look for a small business to purchase. I was fortunate enough to find another niche sports business in Competitor and acquired the company in the fall of 2012. Competitor has been In business since 1968, so I knew Competitor had a strong, well-established brand in the aquatics industry. But I also knew that there were things that we could improve upon.
Once I bought the company, I just started asking customers, dealers, employees, what can we fix, where can we get better. Our goal at Competitor will always be superior customer service and the delivery of quality products in a timely manner. I not only want the Competitor name to be held in high regard by our distributors, industry leaders, and swim coaches but most of all by our swimmers who are the inspiration for our standard of quality and excellence.
I am a non-swimmer who has been enthusiastically embraced by the entire industry so I always keep in mind that the swimmer and their commitment to the sport is the reason we are in business in the first place.
Tell us about Competitor's history in the sport of swimming in the U.S. and internationally.
Competitor has a long history in the swimming world. The company started as a division of Kiefer-McNeal in 1968 and was originally located in Akron, Ohio. Through our relationships with distributors throughout the world, Competitor has grown into the internationally recognized and admired brand that it is today and a leader in the industry.
Since that time, Competitor has gone on to secure partnerships with both USA Swimming and the NCAA, making Competitor the official lane lines of both organizations. Throughout the past 53 years, Competitor has been front and center at the majority of the NCAA Championships, USA Swimming Olympic Trials, and 10 Olympic Games.
What makes Competitor different from the competition?  
Competitor takes great pride in making sure we put the swimmers first. We research and develop the best products, from material to the ease of the use of the product, and stand behind our products so that our end-users will have the best.
The LifeSpan+™ formula goes into each Competitor lane line is also a game-changer as far as how long they are able to last in the harsh pool environments. Our team also is focused on providing outstanding customer service with integrity and we do whatever it takes to provide our customers with both an outstanding product and process.
What are you most proud of regarding Competitor?
I am most proud when our team is winning at work, seeing them having fun while winning. I also love when we make a "customer for life," which is a core focus at Competitor.
Tell us about your family 
I met my wife at the University of Kentucky and have been married for 26 years. We were lucky enough to get to move around a little and live in some great places like Colorado and Texas before eventually moving back home to Columbus, Ohio. We have three daughters who take up most of our time – Hallie is a sophomore at Kenyon College, Mills is a senior in high school, and Eva is a freshman – along with Winnie who is a black lab puppy that was purchased without my knowledge. Yes, I am truly outnumbered.
How do you like to spend your time away from work?
I play a lot of golf, and my wife would emphasize "a lot". I am joking, but I do love the sport. They always say you can learn a lot about a person by playing 18 holes of golf with them. I also play some tennis and a little platform tennis in the winter. I end up watching a lot of sports and root for the Cincinnati Bengals, Ohio State Buckeyes, and the Kentucky Wildcats.