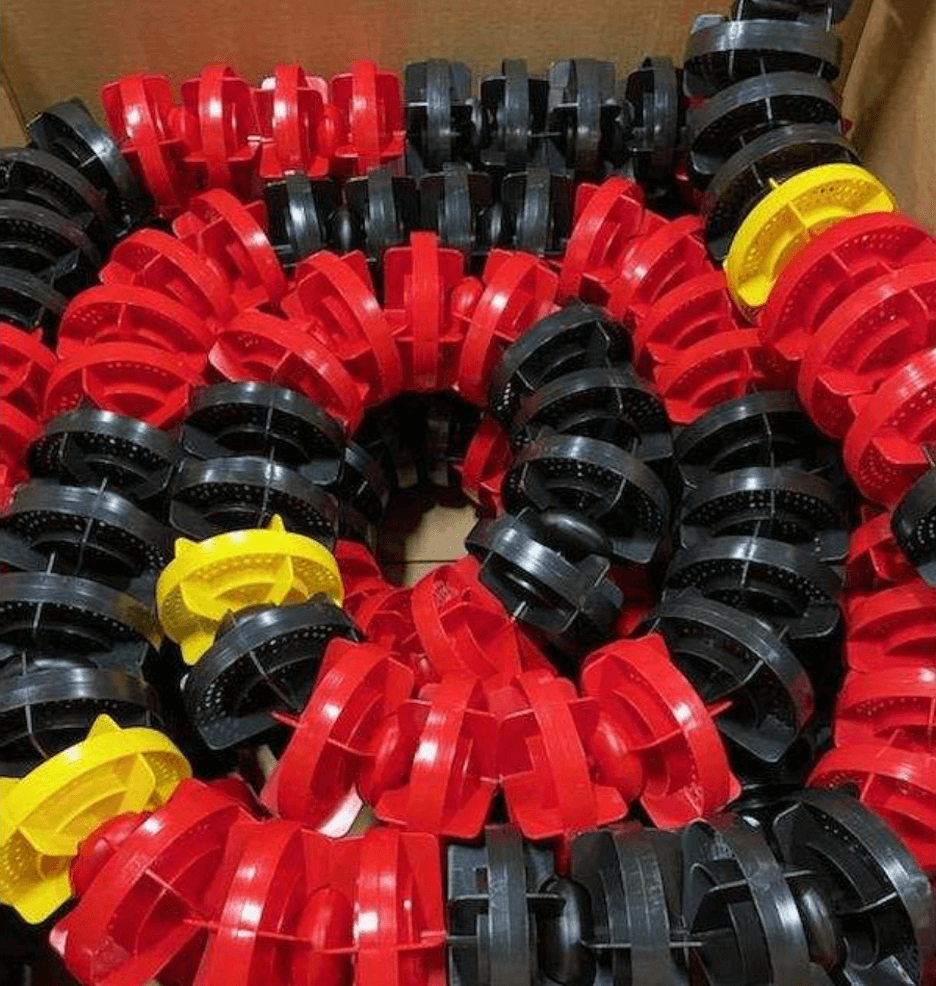 It's true that every pool is different. But that doesn't mean there aren't essential supplies that every swimming pool needs. Especially for facilities hosting swim competitions like USA Swimming events, NCAA events, or even high school events, having the highest quality swimming pool equipment is essential.
If you're looking for a comprehensive list of must-have swimming pool supplies, you've come to the right place. Find everything you need to turn your pool into the perfect place for competitive swimming below.
Must-Have Pool Supplies and Accessories
Racing Lane Lines
The lane lines in your pool do more than outline the lanes for swimming. They also create the right environment in the water for swimmers, especially when it comes to competitive swimming.
Competitor's lanes can be custom designed to your specifications, and you can choose any color pattern you'd like. Our swimming lane lines also come shipped fully assembled and meet all FINA, USA, NCAA and NFHS standards.
Explore more information and learn how to use our Lane Wizard for choosing the right swim lane lines for your pool.
Lane Line Storage Reels
If you're going to invest in quality racing lane lines, you'll also need lane line storage reels to store them when not in the water. Competitor offers three options for storage reels that allow easy, mobile storage and installation of racing lanes. Both of our lane line storage products feature solid end-wheels that keep lanes safely on the core to avoid tangles and damage.
Pacing Clocks
If you want both experienced and newcomer swimmers to use your pool for lap swimming, make sure it fits the bill in terms of equipment. You need a pacing clock because your swimmers expect it.
Competitor offers three pace clock sizes and two face-color options made from durable materials to resist the impact of pool chemicals and weather. They feature sweep-minute and second hands that are easy to see and designed to resist warping. Faces and hands are protected from damage and splashing by a clear Plexiglas® lens.
Rope Floats
There are many uses for rope floats in pools. You can use them to mark off designated areas like diving zones or shallow ends. You can also use them to separate group classes from other swimmers.
Our EZ-LOCK Float is a 5"x 9" self locking float with a twist lock design. The design eliminates pool divider floats from moving on a rope while using no hardware — making your life easier. We have swimming pool rope floats in three color variations: blue, red, or a combination of blue and red.
Starting Blocks
These platforms are considered standard pool equipment, especially if your facility is hosting swim competitions. For the highest quality and longevity, look for starting blocks that have features like ​​anti-skid plates, adjustable positions, and backstroke ledge compatibility.
Backstroke Ledges
Another component you need if you plan to host competitive swimmers is backstroke ledges. These provide a place of positive traction for swimmers on the pool wall at the start of the race. Look for backstroke ledges that are durable and easy for swimmers to use.
Backstroke Flags
Backstroke flags help swimmers easily detect where they are in the pool. Swimmers can also use the flags to determine their stroke count, which can help them train. When it comes to safety, backstroke flags help swimmers determine where they are in the water and keep them from hitting the wall.
Competitor backstroke flags for swimming pools consist of an oxford nylon material in a range of colors that meet all FINA, NCAA, USA, and NFHS regulations.
The above list of must-have swimming pool supplies is the minimum you need for a swimming facility that plans to host competitive swimmers. If you have additional questions about researching or purchasing these products, we're happy to help. Please reach out to us.
Get Must-Have Swimming Pool Supplies from Competitor
Competitor offers a variety of options for swimming lane lines and other pool accessories. Our products are custom built by hand with pride, passion, and expertise. All Competitor Racing Lanes are manufactured and assembled in the USA and customized for your specific needs. Contact us to learn more.